Red Bites for a Rainy Day

Premiere: Friday, February 6, 2009, at the 4th Annual Phoenix Experimental Arts Festival, Paradise Valley Community College, Phoenix, Arizona.

2nd Performance: Sunday, April 26, 2009, at Cloud Dance Festival: Restless, Jacksons Lane Theatre, Highgate, London, United Kingdom.

Choreography, video, and performance: Kathleya Afanador
Music and programming: Allen Fogelsanger
Scenography (2nd and succeeding performances): Stephanie Canna
Dancer on video: Emma Batman

Red Bites began with a red umbrella, as both image and object, and with an interest in the compositional concept of lightness, as considered by Italo Calvino in his first memo for the next millennium. Lightness suggests weightlessness and wit but also, literally, the medium of light which is used here in two distinct forms of projected image. There is pre-recorded video where the umbrella's motion is edited, manipulated, and stylized; and there are real-time generated digital paintings where a computer program tracks the colour red and produces visual residues reminiscent of abstract expressionism. Red items (including the umbrella, socks, and gloves) become the dancer's paintbrushes as she marks a surface, not by touch, but through the traces of her movement. At the premiere, five hundred white balloons were taped together to catch the 4.5 meter high projected images, but for succeeding performances the canvas has been transformed into three panelled screens which fracture and filter the images into a puzzle-like array.

The video used in performance was filmed at the Concord Academy's Summer Stages Dance.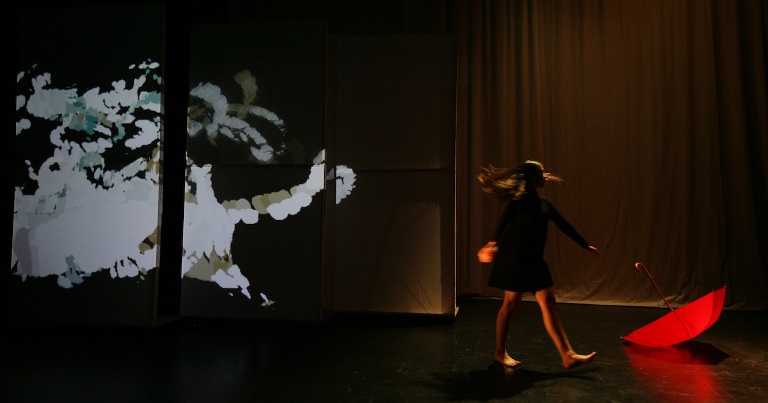 The wondrous result is literally witnessing an abstract painting created in real time--a visual treat...
---------Michelle Harris
--------(for Cloud Dance Festival)